Quirky, Unusual and Interesting Places to Stay in the Western Cape
This content was originally published here.
Intriguin, innovative and very different places to stay around Cape Town and the rest of South Africa
Last Update: 19 December 2019
If you want to experience a getaway with a difference, then try these out-of-the-ordinary places to stay – from a tech-savvy guesthouse and remote cabins atop the mountains to glamping and places that offer rustic treehouses, wood-fired hot tubs and waterbeds.

THE ULTIMATE GLAMPING EXPERIENCE
Escape the hustle of the city and go glamping (with all the comforts of home). Pick your boutique camp in any of 11 beautiful locations in South Africa, including the Winelands, Kwa-Zulu Natal, The Garden Route, and two camps near Kruger National Park. Expect stunning views from the deck of Pat Busch in Robertson, with its lush hiking trails, streams, dams, and fynbos. The experience is made unique because of the authentic local activities provided. Take in ostrich or meerkat tour in Oudtshoorn, see how cows are milked in Wilderness, or experience life on a wine farm in Wellington. Many of the camps have wood-fired hot tubs and make for a sweet retreat for couples and group getaways. Discover each of the 11 fantastic AfriCamps dotted around South Africa.
Rates: From R1190 a night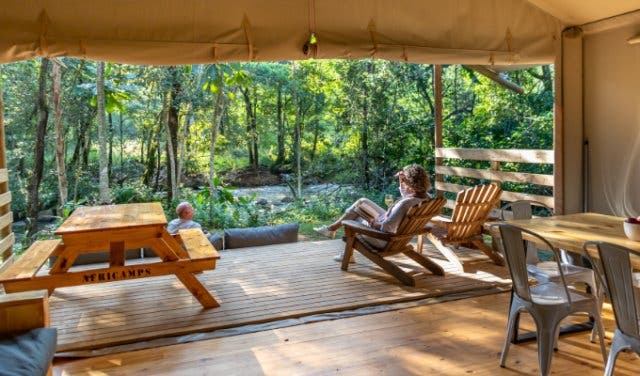 11 locations around South Africa| +27 (0)21 300 5694 | hello@africamps.com
HAVE A FOODIE ADVENTURE IN THE KAROO
Amateur chefs, aspiring foodies and adventure-seekers, this is no ordinary cooking school. This is travel cooking, meaning you can do unique food tours around the small town of Prince Albert, or go on a foraging excursion in the Karoo. Make a weekend of it and stay at one of the luxury cottages fashioned from original Karoo houses at African Relish cooking school and find an affordable summer food adventure in the Karoo at African Relish cooking school and Karoo accommodation. How about an adventure during a day in Prince Albert?
Rates: R660–R2035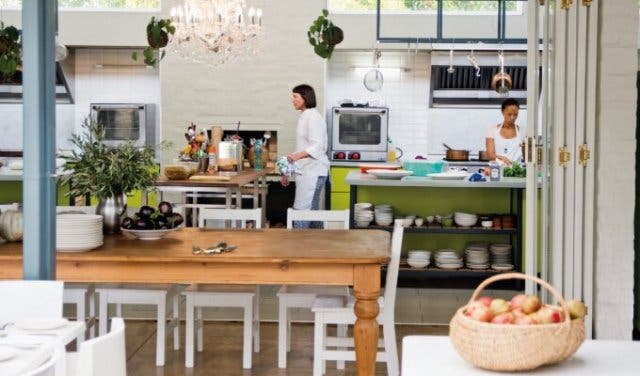 34 Church Street, Prince Albert, +27 (0)23 541 1381, +27 (0)72 582 8749, foodies@africanrelish.com
SEASIDE MEETS GARDEN LUXURY UNDER THE 12 APOSTLES
You don't get more unusual than a Bakoven boutique that overlooks the Atlantic Ocean and the Twelve Apostles, and is set in a luxurious 4 000㎡ garden, among giant milkwoods and koi ponds. This family-run guesthouse offers the best of both worlds – walking distance to the famous Camps Bay beach and restaurants, but far enough away to lap up the peace and tranquillity of the salty seaside. Plus, there's an in-house spa, and luxury accommodation featuring works from local artists at Ocean View House.
Rates: From R1600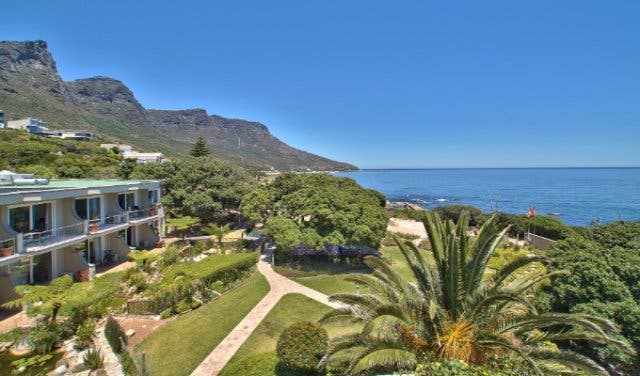 33 Victoria Road | Bakoven | Cape Town | +27 (0)21 438 1982 | info@oceanview-house.com
BEHIND JEWEL-COLOURED, VELVET PADDED DOORS
Travellers who book at Cartel House Hotels can rub shoulders with business founders and creative agencies. The rooms are plush from entrance and at the epicentre of the city. Cartel House Hotel bookings also hold the key into the Cartel Members Club. It's free access to the Inner City co-working spaces across three locations and private spaces like a spectacular 360-view rooftop pool on the 11th floor, and the bedecked lounges. Read more about Cartel House Hotel and get access to all on the Cartel App.
Rates: R2200–R4500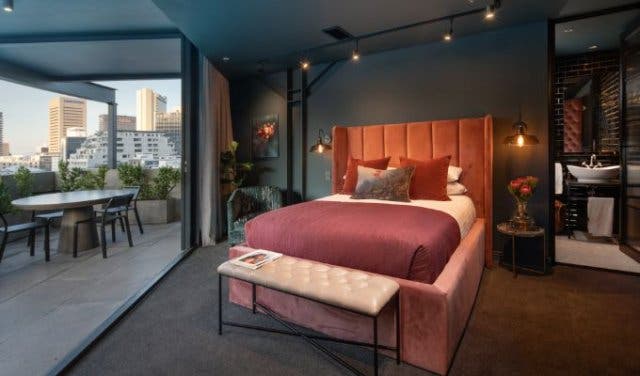 3 locations, +27(0)21 824 1781, info@ideascartel.com, website
GLAMP IN THE MIDDLE OF APPLE COUNTRY
Ultra-cosy tents with real beds, luxury linen and armchairs. A warm lounge with deck and fireplace, as well as hammocks and so much room to play outside, close to friendly zebra and springbuck. Discover Cherry Glamping near Cape Town.
Tip: Also discover low-tech Wednesdays at Cherry Glamping's team-building getaways.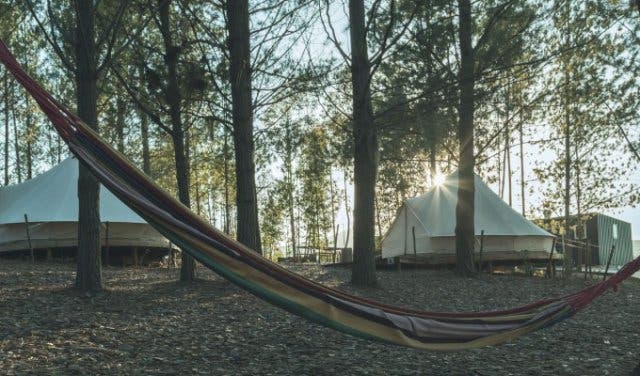 Groenrug Estate, N2, Grabouw | +27 (0)82 788 9837 | info@cherryglamping.co.za
GET STOKED FOR YOUR WOOD-FIRED HOT TUB IN TULBAGH
Enjoy the majestic views of the Winterhoek and Witzenberg mountain ranges from a private wood-fired hot tub in winter or a refreshing plunge pool in summer. Choose from seven beautiful self-catering cottages spread over two locations in Tulbagh, boasting private outdoor hot tubs, plunge pools, indoor fireplaces, braai facilities and more. Let Bergsicht Farm & Town Cottages stoke your getaway whether it's romantic or otherwise.
Rates: From R770 per person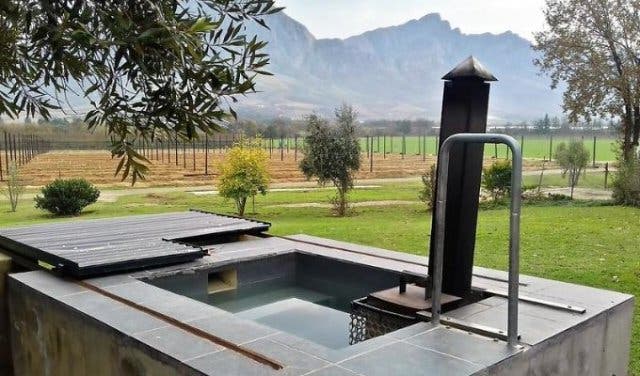 Vrolikheid Farm and Theron Street, Tulbagh | +27 (0)79 435 2124, info@bergsicht.co.za | www.bergsicht.co.za/
STAY AT A LIGHTHOUSE WITH YOUR FAMILY
Landlubbers and salty seadogs alike can stay over at some of the Western Cape's lofty lighthouses, in the refurbished self-catering family-sized keeper's cottage. The 1936 Cape Columbine Lighthouse in Paternoster on the West Coast is a 15-metre-tall square tower that derives its name from the Columbine that ran aground in 1829. The 1895 Danger Point Lighthouse in the town of Gansbaai is an 18.3-metre-tall octagonal tower that was named after its small peninsula, responsible for the ruin of the HMS Birkenhead in 1852. The 1864 Cape St Blaize Lighthouse in the town of Mossel Bay along the Garden Route is a 14.3-metre-tall square tower named after the Portuguese Saint Blaize (Sao Bras). There's plenty more to discover during a visit and you can climb the stairs to the tower, but please note that they are usually closed for visits over the weekend, so either enjoy the peace or take the opportunity for a mid-week escape.
Rates: R1300


+27 (0)21 449 2400, lighthouse.tourism@transnet.net | stayatlighthouses.com/
BATH AMONGST THE TREES AT A RUSTIC TREEHOUSE
The small town of Greyton in the Overberg area is ideal for relaxing in the fresh mountain air and enjoying the spaciousness and stillness of nature. Anna's Country Accommodation offers three self-catering cottages and a treehouse specially built to include the old oak branches throughout the interior. Nestled high up amongst the old oaks, the rustic and romantic treehouse offers a hot alfresco shower with beautiful mountain views and a free-standing bath amongst the branches of the trees.
Rates: Treehouse: R700 per person

1 Market Street, Greyton | +27 (0)84 764 6012, info@annasplace.co.za | www.greyton-accommodation.com/
CAMP IN A CAVE, WATCH THE STARS, SWIM IN A DAM
A private nature reserve perched atop the mountains in Aurora, boasting spectacular views of St. Helena Bay, DanielsHoogte is a hidden gem, a mere 90-minute drive from Cape Town. The reserve offers fauna and flora ranging from endangered and endemic Protea species to klipspringer, duiker, lynx, aardwolf, porcupine, and 85 species of birds. Intrepid explorers can pitch a tent in a natural cave, accessible by road and equipped with a braai area and ablution block with solar-heated running water. Alternatively, stay in one of the self-catering cottages. Take advantage of the hiking trails and cool off in one of the dams.
Camping rates: R600 per night for up to 4 people. Thereafter R150 pppn, Minimum 2 nights' stay, Max 12 people per site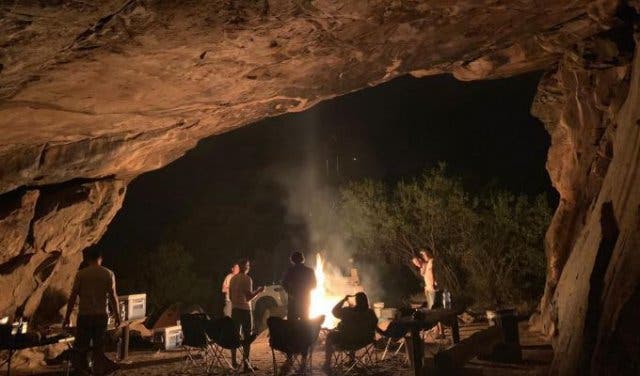 DanielsHoogte Private Reserve | Aurora | danielshoogte@dgtwines.co.za | + 27 (0)22 952 1740 | website
AN ECO-FRIENDLY, OFF-THE-GRID TIPI GETAWAY
After buying a farm at the foot of the Langeberg Mountains in Robertson, owners Jackie and Andre started their tourism trade by renovating the farmhouse. With limited funds, they got creative with their own home and that's what planted the seed for the tipi villages at Assegai Rest Farm in the Klaasvoogds Valley. They designed and built tipis that allow guests to have a self-catering pet-friendly getaway with a lighter footprint on mother earth. The tipis offer braai areas, solar power, outdoor and indoor hot water showers, battery-powered cooler boxes and even indoor fireplaces (firepots) to heat up the space on winter nights.
Rates: From R665 per Tipi per night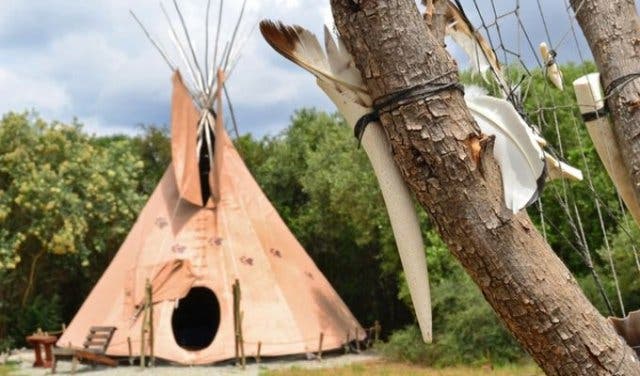 Assegai Rest Farm, Klaasvoogds West, Robertson, Western Cape | +27 (0)23 626 6115, info@klaasvoogds.co.za | www.klaasvoogds.co.za/
360-DEGREE LAGOON VIEWS FROM A HOUSEBOAT
As you rise to the sun dawning over the tranquil water, it's easy to forget that land is only a couple of minutes' boat ride away. Your houseboat stay takes you right to the centre of the Kraalbaai Lagoon's buzzing ecosystem in the West Coast National Park. Make yourself at home on the water aboard one of the self-catering anchored Kraalbaai Luxury Houseboats with braai facilities, fresh hot and cold running water, solar power and more. Bird watching from the deck is mesmerising and you'll notice plenty of fish and water creatures. Other activities include sunbathing, swimming, massages, beach walks, hiking, kayaking, supping and permit fishing; locals say red bait and fishing at night is the way to go.
Rates: From R2600 per boat per night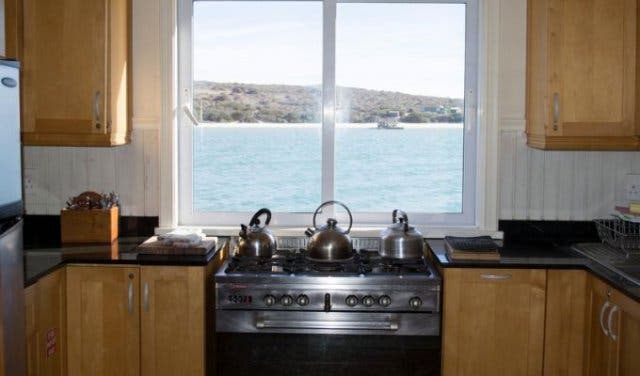 Kraalbaai, West Coast National Park | +27 (0)76 017 4788, bookings@kraalbaailuxuryhouseboats.com | www.kraalbaailuxuryhouseboats.com/
AN AFFORDABLE STAY ON A TRAIN ONLY 30 METRES FROM THE SEA
Locals know it as "The Train" and it's parked at the Blue Flag Santos Beach in Mossel Bay in the heart of the Western Cape's Garden Route. The Santos Express features two vintage wooden coaches that were built in 1919 and 1921, then transported by boat from England to SA where they served a luxury rail company until 2013. Still boasting authentic woodwork and attention to detail, they were renovated into the Royal Suites, all with private sea-view decks and en suite facilities. There is also a honeymoon caboose, comfy private compartments with shared ablution facilities, a 16-bed dorm room, a restaurant, bar and warm and friendly atmosphere.
Rates: R210–R1200 including breakfast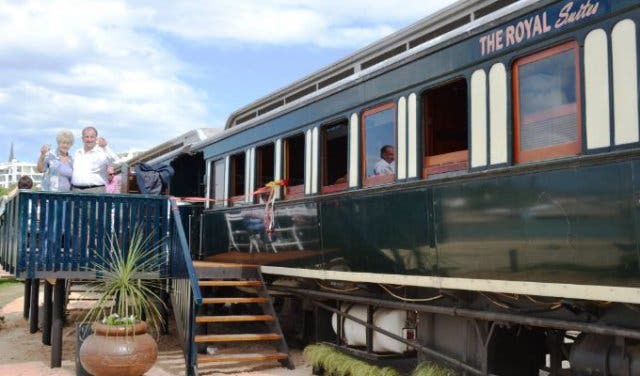 Santos Beach, Mossel Bay | +27 (0)44 6911 995, beds@santosexpress.co.za | www.santosexpress.co.za/
FLOAT ON WATER AND SLEEP LIKE A BABY
Imagine drifting off on an ultra-modern, super king-size heated waterbed imported from afar and waking up feeling like royalty and ready to explore the town of Swellendam. That's what the restored Cape Dutch masterpiece of De Kloof Luxury Estate offers, along with private jacuzzis, fireplaces, spa, fine dining and more. The honeymoon suite offers a super king-size waterbed and the villa offers three of these heavenly beds. Relax on your sun lounger on the private terrace beneath the vines and enjoy uninterrupted views over the mountain peaks and perhaps play a round of golf.
Rates: From R4130 per night including breakfast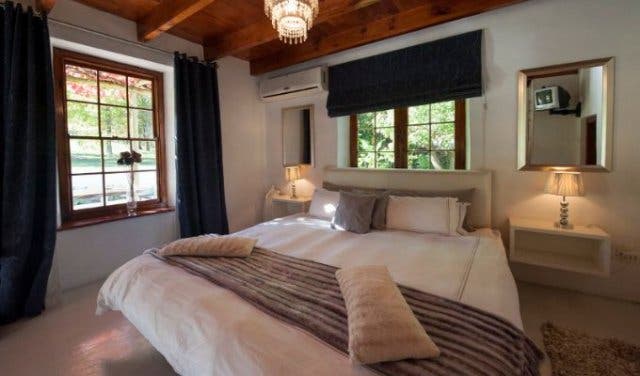 8 Weltevrede Street, Swellendam | info@dekloof.co.za, + 27 (0)28 514 1303 | www.dekloof.co.za/
SLEEP ON TABLE MOUNTAIN
There are several accommodation options in Table Mountain National Park, which covers a large portion of the peninsula. The choices span from tented to more sophisticated cottages suited to parties of various sizes with a range of amenities and a comprehensive online booking system. The accommodations are constantly changing as refurbishment occurs on an ongoing basis. It's best to book in advance for this affordable opportunity to sleep over and explore the wilds of our city.
Rates: R586–R4061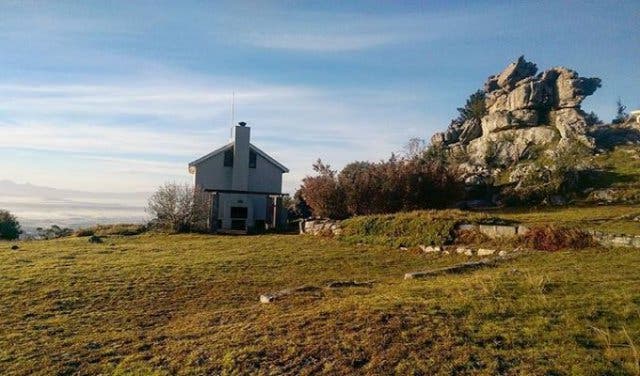 Table Mountain National Park | +27 (0)21 712 0527 | www.sanparks.org/parks/table_mountain/tourism/accommodation.php
SLEEP UNDER THE STARS AT A NATURE RESERVE
Drift off beneath a canopy of a million stars and wake up to an unfiltered view of the untouched wilderness of the Cedarberg. Explore caves covered in Khoisan paintings, try rock climbing, go for safari drives and enjoy a stargazing experience at the Kagga Kamma Nature Reserve. There are other accommodation options if you prefer the comfort of a roof over your head.
Rates: Various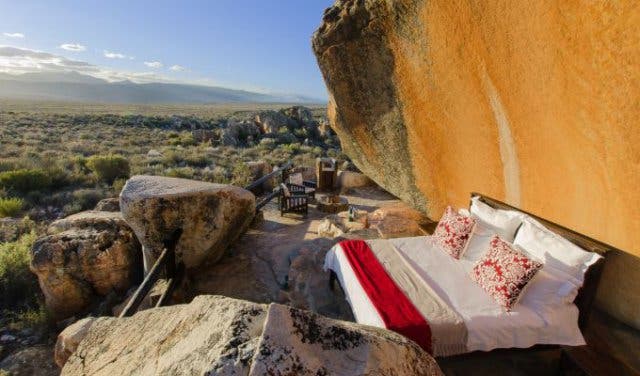 Kagga Kamma Nature Reserve, Cedarberg, Western Cape | +27 (0)21 872 4343, info@kaggakamma.co.za | www.kaggakamma.co.za/
GLAMP IN A WIGWAM IN THE WEST COAST WILD
Growing up hearing all the old stories about Native Americans is what inspired Marion Lubitz to bring a tailor-made wigwam to the Farr Out smallholding close to Cape Columbine Nature Reserve. Fall asleep in a twin-peak wigwam to dream about 'cowboys and Indians' while surrounded by Cape fynbos and the hoots of the owls. The ensuite wigwam features all the bells and whistles including Wi-Fi and an octagonal bed with electric blanket. Wake up to explore the thick sand and dunes of the coast in a self-built beach buggy, go dolphin and whale spotting and much more. Book the wood-fired hot tub or the braai area or choose from around 20 restaurants in nearby Paternoster catering to all pockets and tastes.
Rates: Wigwam: From R770 per person sharing including breakfast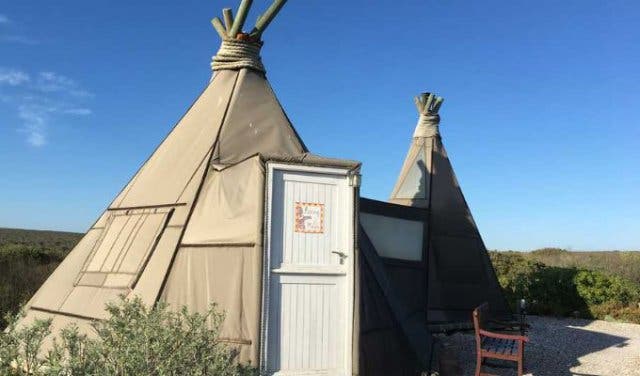 17 Seemeeu Crescent, Paternoster | +27 (0)22 752 2222, info@farrout.co.za | www.farrout.co.za/
THE GETAWAY OF THE FUTURE – NOW IN FRANSCHHOEK
In among the traditional Cape Dutch style guesthouses in Franschhoek is a new-generation smart guesthouse, where the rooms talk back. At theLAB Lifestyle, your wish is theLAB's command. theLAB is really a little box on the ceiling that contains an Amazon Alexa. You can ask Alexa to turn the TV and lights on and off, run a shower, pull the blinds down, even to make coffee ­– all from your bed. On the deck outside, you can ask Echo to play any artist of your choice; there's a mixed-reality hololens to play and design with. Alexa will recommend sites to see and restaurants for eats and you can hop on the electrical scooter or Tuk-Tuk to get there. Plus, you get holiday comforts that everyone likes: a deep pool, a spa and a Jacuzzi.
Rates: From R1150

15 Nerina Street, Franschhoek | +27 (0)64 928 5626, bookings@the-lab.co.za | www.thelab.africa/franschhoek/
A REMOTE GETAWAY IN THE SNOWY MOUNTAINS
Escape to a remote cabin in Ceres atop the Matroosberg Private Nature Reserve, where in winter the cabins and mountains are covered in snow. This translates to the opportunity to partake in snow-related activities such as skiing, snowboarding and ice climbing. Other seasonal activities in the area include cherry picking, abseiling, hiking, mountain biking and more. The cabins have no electricity, but are equipped with fireplaces and hot water, creating an authentic snowy experience.
Rates: Various


Erfdeel Farm, Matroosberg Private Nature Reserve, Ceres, Western Cape | +27 (0)23 312 2282, info@matroosberg.com | matroosberg.com/
NEXT-LEVEL BUSINESS STAYS IN PRIVATE LUXURY APARTMENTS
Imagine your next Cape Town stay in a quality, privately-owned, exceptionally decorated, comfortable and home-like apartment in the city or along the Atlantic Seaboard. Each apartment is hand-picked to be close to Cape Town's tourist, business and conference venues and is exclusively available through the Afribode Accommodation portfolio.
Rates: Various


33 Martin Hammerschlag Way, Cape Town | +27 (0)71 603 6750, info@afribode.com | www.afribode.com/
Where is your favourite unusual accommodation?
Please note that information was correct at time of publishing.
SPECIAL: Feel The Love This February At AfriCamps Valentine's Special.
Take camping to the next level across South Africa with AfriCamps.
Off-the-radar beaches: Rocky coves, hidden hamlets, isolated enclaves at these beaches in the Cape.
Get freaky with Halloween 2019.
Discover the premium work-and-play hub for bleisure travellers who want it all at Ideas Cartel.
Get hot and sweaty at the Afro-Latin dance festival.
Tailor-make your holiday experience from this Kloof Street hostel-meets-hotel: Once In Cape Town.
Looking for some adventure? Check out these exciting top camping spots.
Keen on prepping for the upcoming holiday season by finding affordable accommodation?
Have a look at the best budget getaways near Cape Town and winter accommodation specials and winter weekend getaways.
If you're looking for a relaxed weekend away for two, take a look at our selection of romantic getaways and accommodation outside of Cape Town.
If you'd prefer to stay closer to home, you can always get a rush with our bucket list activities for summer.
There are four hot pools, accommodation for all budgets and various entertainment options at Goudini Spa. Also check out their weekly Sunday buffet or get a free stay in the Slanghoek Villas.
Use our events section for an up-to-date overview of what's happening in the city, 'burbs and dorpies. Join our newsletter and get quick access on the go by adding us to your mobile home screen for the ultimate guide to discoveries in Cape Town.